Edmund (Eddie) Scheckenbach (1927 – 2012)
Edmund was born in the bucolically rural village of Baldersheim in northern Bavaria in mid-November 1927. Baldersheim – noted as a large village in the year 961 - set in gently rolling hills covered in waving fields of grain, interspersed with patches of forest, is about 30 kilometres SSE of the university city of Würzburg on the River Main. Like most villages in Germany, it is separated from its neighbours by only two or three kilometres. Edmund was the last of ten children born to his mother Sabine – known as Mina. She had been married to Peter Hueblein until he was killed in March 1917 in a random shelling incident on the southern end of the Front Line in France. After the war, Max Scheckenbach, also a veteran, was looking for a wife and Mina, with five children, was looking for a husband. They married and had five children of their own whilst raising the five from Mina's first marriage. In 1935, Max was run-over - in an accident partially of his own making - by the only car in the village, driven by a war comrade who was the father of Edmund's best friend.
Edmund's four brother were apprenticed by their mother as her first husband had been a qualified bricklayer. Max had had no formal vocational training and as such his earning ability was limited. Mina always said, "If you are a qualified tradesman, you will always have a golden path to tread". In 1942, without discussion, she apprenticed Edmund as a joiner to Schreienermeister (Master Joiner) Hochgeschwender in the small town of Aub, just two kilometres away. Here Edmund learnt his trade, attending technical school in the small city of Ochsenfurt, 14 kilometres to the north.
In early 1944 Edmund was 16 and a half years old and had been drafted into the German Imperial Labour Service as he was still too young for the military. After a brief training period he was set to work manning a heavy Flak gun protecting the city of Schweinfurt, about 40 kilometres to the northeast of Würzburg. Schweinfurt was the site of the only two ball-bearing factories in Germany and was afforded a great deal of protection from enemy heavy-bomber raids. At the very end of 1944, as he could see that life was going to be very unpredictable in the near future, Edmund sat his technical trade test and became a Journeyman - a qualified joiner/carpenter. After some time in an American prisoner of war camp, Edmund in the company of some of his comrades, all badly starved, walked the 100 kilometres home. In late 1945, when he had recovered his strength, he easily found work in Aub, repairing war damage and five years of accumulated wear and tear which had been ignored during the war years. In 1948, Edmund decided to work in a different environment and quickly found employment in Würzburg, helping to rebuild the city after the firebombing of in late March 1945. The firm he worked for created large and small interior fittings from doors and windows all the way to grand staircases.
In 1951, Edmund noticed an advertisement in a trade newspaper looking for qualified tradesmen to work in Australia and decided to apply. Mina and sisters were very afraid for him. Australia was far, far away, had hot, hot deserts, full of wild, wild animals and wild people – this frightened Mina so much that she made a shrine to the Virgin Mary, hung it in the forest, lit a candle in it at least once a week and prayed for her youngest son's safety. The shrine still exists.
Meanwhile, Edmund had left his love and family behind. With probably some of his mother's adventuresome spirit and determination, he set out into what was for him, a great unknown. His heart ached for his girlfriend and his family and his thoughts were often with them.
The voyage to Australia on the Castel Bianco was all new territory for Edmund – never had he seen the like of Egyptian hawkers in their boats swarming around and onto their ship selling their wares as they pulled into Port Said. The "Crossing the Equator" party was a chance for a bit of fun on the crowded ship, for there was little else to do. Their arrival in Melbourne was something they all looked forward to.
The flight to Canberra from Melbourne via Albury was a new experience, as was the heat and the flies. The unsophisticated, small Bush Capital of Canberra was certainly not what Edmund or his comrades were expecting. If they could have left, they would have. When work started, they gradually overcame the difficulties of working with men who likely had fought Germans or who's fathers, sons or relatives had fought and been wounded or killed by Germans, not that long ago.
Nevertheless, they worked and by dint of their skills, earned the respect of the men in the local building trade and by their own friendliness and willingness to make a good go of it began making friends in Canberra.
It was around this point that Edmund became Eddie, which everyone, except his family in Germany called him.
After the Jennings contract was up, Eddie stayed on with Jennings for another nine months, consolidating his financial position and considering his options after his girlfriend refused to leave Germany to live in Australia with him. There was work aplenty in the Snowys and it was easy to find a position. He began working at the old Eucumbene campsite as it was being torn down. From there he moved into the mountain dam and power-station sites. The salary was excellent and he comfortably saved money. It was not long before he was made Leading Hand as he had been with Jennings, working at Happy Jacks, Tooma and other sites. From there Eddie became Head Foreman Carpenter at the Tumut Pond site. From the start of the work of constructing the dam down on the valley floor he was in charge of creating the heavy form-work that held the wet concrete on each of the pours which raised the level of the dam. Richard Raiser a good friend from his Jennings days, worked under Eddie's supervision during shifts. Richard reported that Eddie was hard but fair – expecting and getting good work from his crews. Off-shift Richard and Eddie spent time together as old friends.
Eddie also worked on the formwork for the diversion tunnels, the T1 and T2 underground power stations – spending the last year or so of his time in the Snowys building the formwork that created the underground T2 power station and the tailrace tunnel, which emerged not far from the now disappeared Sue City construction camp.
In 1956, a certain qualified paediatric and orthopaedic nurse, Edith Lausmann, pulled a slip of paper with AUSTRALIA written on it from a nurse's cap in a dormitory in Mannheim in Germany. The plan in the dormitory of four nurses was for one of them to travel to Australia to survey a man who had asked one of their number to marry him. The young woman was torn in regards to going or staying, so her friends drew slips of paper from a cap and Edith decided to that she would go for her friend. Arriving in Melbourne she met the man in question and decided that he was not marriage material for her friend and travelled to Sydney. After an unsatisfactory time working as a housemaid Edith decided that she would have to retrain as a nurse under the Australian system and enrolled at Concord Repatriation Hospital in Sydney, nursing war veterans back to health.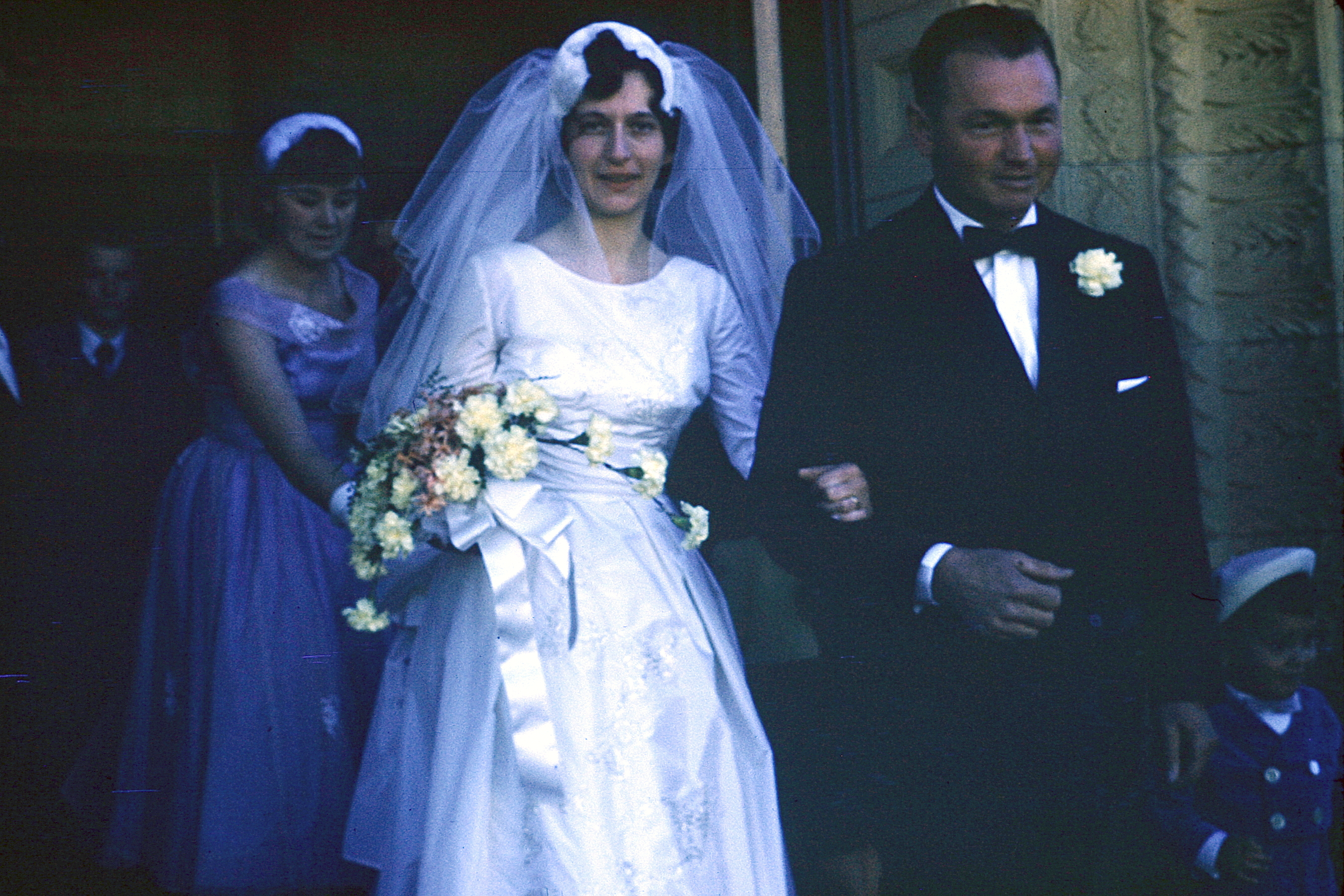 In 1958 Edith came across an advertisement in the Lonely Hearts column of one of the German language newspaper in Australia – Die Woche in Australien – (The Week in Australia) or Neue Welt (New World). There were two lonely fellows looking for some girls for a bit of fun. Edith was shocked that someone would write such a thing and wrote a stiffly worded missive back. Of course, Eddie and Edith met up and ended up marrying in 1959. They made a life together in the Sue City construction camp where their first daughter came to live with them after she was born in 1960.
By 1961 work on the Snowy's big projects was coming to a close. Eddie and Edith had already decided to move back to Canberra where they had friends - Richard and Evie Raiser and other Jennings Germans amongst them.
For a while Eddie worked for a friend who owned a steel construction business. One of the jobs they had was to make the brass hand railings for what is now the ACT Supreme Court building, boring holes in the steps, fitting the railings and filling the rest of the hole with molten brass. In a healthy economy there was plenty of work around and after the steel business was sold Eddie started working as a contractor building houses and extensions. Meantime, he had been working on his own house after hours, using every spare minute of sunlight to have it ready for the arrival of their first son in late 1962.
Eddie settled into life as a builder. He enjoyed working on a small scale, working one or at most, two jobs at the same time. He found a small group of tradesmen that he liked and worked as thoroughly as he did and used them for years. His electrician, Chris Marug and plumber, Ken Hagan worked with him for literally decades. Occasionally Eddie needed help from his friends and Richard Raiser and Tony Finsterer - before he started driving a concrete truck - were the ones to call. And when friends needed help, Eddie was there.
Often one job led onto another. In 1964, Mr Barnett over on the corner of Flinders Way and Monaro Crescent needed the interior fittings done in the second house he was building on his block. Richard Raiser couldn't do it so he directed Mr Barnett to Eddie. Eddie took on the job. He had Willi Huetner working for him at the time and they went straight into it. About a year after that, Mr Barnett came and found Eddie again and asked if he would consider building a farmhouse out on the Tidbinbilla Road past Point Hut Crossing for him, if he bought the land. Eddie agreed and after the land - bordered by Tidbinbilla and Corin Dam Roads - was purchased, quoted the job and was asked to build it. Close to where the farmhouse is now was the original settler's beam and slab hut which had been eaten by termites and was only good for firewood.
As the house was being built, Eddie, Willi and the crew were visited by older ladies who said that they had grown up in that hut and that the corrugated iron for the roof had been carted up from Sydney and floated across the Murrumbidgee River. For them it was a sad day to see the old hut being slowly torn down. On that task, they had visits from the property owner on the other side of Tidbinbilla Road. One day the farmer asked Eddie if he could build him a bridge across the creek on his property. Eddie agreed and took a break from the farmhouse. The farmer provided the timber – cut on the property – and Eddie and Willi started cutting into the banks of the creek to create the abutments. The heavy posts were sunk and logs were laid between them to create a solid structure on which to lay the bridge's beams. The heavy, 100mm thick boards were laid over the top and set in position with spikes. The deck of the bridge lasted until about 2010 when the deck and beams were replaced but the original abutments still hold the bridge.
In 1964 a second daughter was born and in mid-1969 Eddie and Edith's second son was born.
Eddie did several jobs for the well-known architect Enrico Taglietti, the largest being the house at 62 Skinner St Cook. Whilst architects designed beautiful structures, these are not often easy to build. Eddie could be heard to comment about impracticality in relation to them but he simply figured out how to create that shape with the resources he had – often a friend or the strong arms of one of his sons – and built it to stay there.
Eddie spent many, many hours working as a committee member for the Harmonie German Club – of which he was one of the founding members in 1964 - promoting its interests and helping to retain at least some of the German culture he and his comrades brought out with them more than a decade before. The club was a focus for the Jennings Germans and their families, providing an occasional watering hole after work and somewhere to hold festivals that they had celebrated in their youth as well as a place to celebrate family occasions such as births, deaths and marriages.
Eddie did not have many interests outside of his work, his family and circle of close friends and the Harmonie German Club, although he did spend some time on a committee or on the Board of the Canberra Master Builder's Association. A true professional, he kept his tools clean and sharp, sometimes spending a Saturday ensuring everything was in order. He was dedicated to his family, working long hours during the day and then more at night quoting up new work to support them so they would have a solid start in their adult lives. Edith would sometimes sit beside him, helping to sort through incoming and outgoing invoices, although the main role she took on was looking after their family, which grew up quickly. Taking on the Treasurer's role at the German Club took up more hours and became a source of friction between Eddie and Edith – who was much happier when he finally retired from the task.
The 1970s and 1980s were Eddie's building prime. He was well established and produced top quality work, mostly building extensions and performing interior remodelling. During school holidays and sometimes on weekends when sport was not on the calendar, his sons would be out on building sites, "assisting" until they had gained a few skills and were able to contribute positively to the work. As his sons gained maturity, they began to value the uninterrupted time with their father and built a close relationship – the skills they learnt remain valuable today.
 When Eddie finally retired, he was busier than ever, helping his children with building this and repairing that. He and Edith travelled extensively around Australia, Europe and the US, tracking down distant relatives before family history was a popular pastime.
Edith died in 1998 after a long illness and some years later Eddie teamed up with Marta who was also widowed. Their families had been close since 1960 when Edith and Marta met in Cooma Hospital. Marta was having her second child and Edith her first. Eddie had built their house in Hughes and they had spent many days and evenings at each other's houses. They were a good match and travelled extensively around Australia and in Europe. Sadly, Marta descended into Dementia and they could no longer be together.
In 2011, Eddie travelled to Germany to visit his remaining brothers and sister. He met up with is eldest son, his family and his nephew from his eldest daughter. Amongst other things, he showed his grandchildren around his old village, the old house, school and the church where he used to swing on the bell ropes as an altar boy. He took them to the forest where he used to play with his friends and showed his son the first task he ever worked on as a new apprentice.
In early 2012, the shortness of breath and wheeze he had became stronger. He was diagnosed with advanced mesothelioma (caused by exposure to asbestos) and within six weeks he had died. Eddie was 84 and the father of a family who loved him.