Opportunity calls
'When I signed up and looked at the map where Australia was, I nearly fainted.' – Josef Reicheneder
Life in Germany after the Second World War was difficult. The country was still recovering from defeat, and although work was available, wages were low, conditions were often poor and many activities—from travel to changing jobs—were highly restricted. There were also strict and often uncompromising generational opinions about how young people should behave. When the call went out for men to come to Australia—a country portrayed as full of sunshine, freedom and opportunity—it was difficult to resist.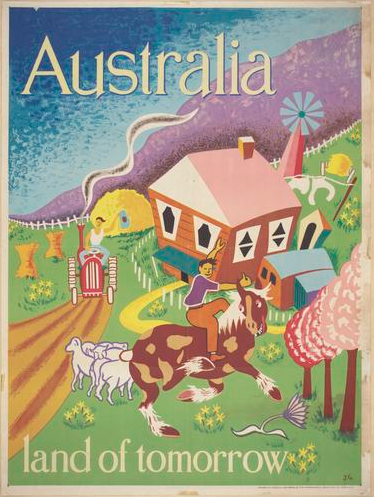 AV Jennings placed ads in newspapers, trade journals and on radio across Germany as it sought the best tradesmen for the positions. They described the high wages, living conditions and opportunities available in Australia, and noted "The German tradesmen in Australia will be able to lead a quite different and happier life than here in Germany". Successful applicants would be offered double the standard wage, a guaranteed two-year contract, and their fare to Australia, which could be paid back gradually, requiring no immediate outlay of funds. It was an attractive prospect – but even more than this, the men would be offered a chance to leave Germany and the memories of the war, and travel far, far away to a place completely different and exciting. It was an adventure—but a well-planned and sensible one. And if it all went belly-up? Well, it was 'only for two years' after all.
Applicants aged between 21 and 40 years of age with at least five years training were invited to undertake a practical trade-test, where they could prove their skills and competency.  
The trade tests were held in technical schools throughout Germany. Hopeful applicants were handed a piece of rough-sawn wood, some basic tools and given 90 minutes to construct a technical frame (generally triangular). Each angle had a different type of joint, edges had to be bevelled and it had to fit together seamlessly. In the first test, only one applicant out of the 15 was successful, and one of the examiners Allan Jack later noted 'I didn't know a single Australian who could have passed that test'.
Applicants who successfully completed the practical exam then had to pass a strict immigration interview where they were drilled on their war history and political affiliations, before finally undergoing a full medical test. If the men passed all three, they were offered a 2-year work contract with AV Jennings in Australia. A condition of employment was that the men joined the Building Workers Industrial Union of Australia. They also had to sign a contract with AV Jennings agreeing to wages, working conditions, accommodation and to repay their travel costs over the two-year period of work.
Without exception all the men planned to return to Germany at the end of the two years, richer, more worldly, and ready to settle down.
There was shock among families, and tears from the mothers, but nothing was going to stop the men from sailing off to take up the opportunity of a lifetime.
The men sailed in five groups between October 1951 and February 1952.
12 men sailed on SKAUBRYN                       - 8 October 1951
36 men sailed on NAPOLI                              - 4 November 1951
42 men sailed on CASTEL BIANCO             - 27 November 1951
53 men sailed on NELLY                                 - 4 January 1952
7 men sailed on ANNA SALEN                     - 20 February 1952
As the boats pulled away from Germany the men on board experienced a range of emotions, from excitement through to terror and regret. The journey to Australia in the early 1950s took six weeks by ship, allowing plenty of time for the men to get to know each other. They took English lessons, played cards, wrestled and read, took photos and spent countless hours discussing what may lie ahead.
'As we sighted the coast of Australia, a totally unknown continent, caused me and most likely all on board a powerful impact of emotions. What would the future hold? I was not gloomy, a little bit frightened perhaps and concerned…Everyone became quiet, there was no cheering. People stood by the railings, looking at this continent, so far from home.' - Herman Hock